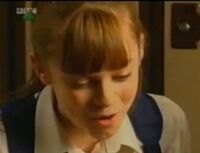 Tamsin (Hannah Tointon) is a character who appeared in the first series who was Taj Lewis's love interest until she left suddenly.
Tamsin is portrayed as Ricardo Murray's girlfriend but Taj Lewis has a secret crush on her. She usually dumps Ricardo for such reasons that she will not wear fur and that he does not spend enough time with the elderly.
Ad blocker interference detected!
Wikia is a free-to-use site that makes money from advertising. We have a modified experience for viewers using ad blockers

Wikia is not accessible if you've made further modifications. Remove the custom ad blocker rule(s) and the page will load as expected.