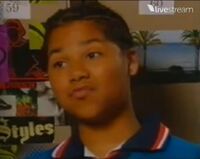 Taj Lewis (Devon Anderson) is the main character of Kerching! who, teamed up with Danny and Seymour created the online company Rudeboy with the goal to make a million for his Mum.
His alias is Rudeboy, an internet businessman who is well known among kids everywhere. Taj wants to keep his identity secret until he has made £1,000,000 for his Mum, following his father's death.
Taj has made Danny and Seymour junior associates of Rudeboy, at 1½% of the profits. Taj was also secretly dating Alex until they split near the beginning of the 4th series. At the end of the 4th series it seemed there was a slight spark between them and they ended up getting back together. Taj made £1000000 in the end.