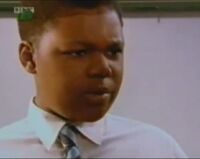 Seymour Franklin (Tendayi Jembere), is one of Taj's best friends, and handsome chef, Seymour enjoys insulting other friend Danny using everyday objects such as "you pushchair", "Danny - you bin-liner" and "you glovepuppet", but his main passion in life is cooking and was heartbroken when he got an A in cooking, as he is used to getting A*s. There are hints that he may love Jasmin. His hero is Ainsley Harriott.
Ad blocker interference detected!
Wikia is a free-to-use site that makes money from advertising. We have a modified experience for viewers using ad blockers

Wikia is not accessible if you've made further modifications. Remove the custom ad blocker rule(s) and the page will load as expected.