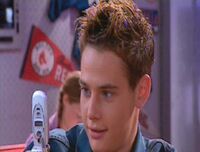 Ricardo Murray was Taj's rival but the pair made up when he left. Ricardo believes he is "God's gift to women" and in winning a "Search For A Band" competition, became the 40th member of band 20-20, before he was dropped from the group and left to live with his mother in Italy.
Ricardo is portrayed as a complete idiot, who is the opposite of Taj, Alex and Tamsin, and after Danny, he is the most slapstick character in the show (for example, being squirted by mustard during one episode).
In the first and second series, he and his dad ran a music shop and in series two Taj, Omar, Missy and Ricardo thought that Taj's mum was going out with Ricardo's dad.