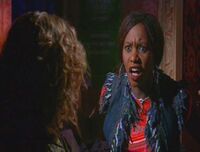 Kareesha is a waitress at local diner, The Chill Out Grill. She enjoys nothing more than going on a shopping-spree and is extremely work shy. Danny has a crush on Kareesha, and refers to her as "Kareesha-sha-sha-sha".
Kareesha's best friend is Missy, Taj's sister, who is currently in Los Angeles trying to make a movie career. Kareesha's mum makes a brief appearance in one episode. She is portrayed as a mad party girl, distracting Josephine Lewis from her studies, until Jasmin intervenes.
Ad blocker interference detected!
Wikia is a free-to-use site that makes money from advertising. We have a modified experience for viewers using ad blockers

Wikia is not accessible if you've made further modifications. Remove the custom ad blocker rule(s) and the page will load as expected.