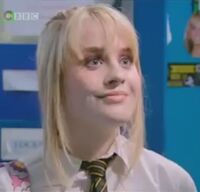 Alex Moss (Elspeth Rae) is the love interest for Taj Lewis once his first love interest Tamsin left.
Alex is a good organiser and listener. Taj, Ricardo and Michael all fancy her, but she was Taj's secret girlfriend until near the beginning of the fourth series.
They pretended to split in series three because Alex was fed up of being left out of Kareesha and Jasmin's plans and parties. She also can be annoyed at Taj for spending too much time on his laptop or mobile phone keeping Rudeboy in order.
Ad blocker interference detected!
Wikia is a free-to-use site that makes money from advertising. We have a modified experience for viewers using ad blockers

Wikia is not accessible if you've made further modifications. Remove the custom ad blocker rule(s) and the page will load as expected.